Graffiti Promo Design Centers - Seeing is Believing!


Come in and visit any Design Center to touch, feel, and test products in one setting. By visiting a Design Center, you can cut your research time from months to only a few hours! All design center's feature our top-of-the-line products for you to view before deciding on your final purchase. A friendly and knowledgeable representative will be able to assist all of your requirements and find the right solution to make your mark!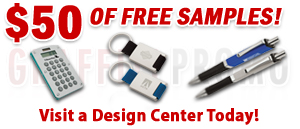 For a limited time only Graffiti Promo is offering you $50.00 worth of FREE samples for your first visit to a Design Center! Pick out your samples on site, and we will ship them out the next day of your visit at absolutely at no cost to you! This offer is only good per company and for first time visits only. Ground shipping free of charge.
Design Center Benefits:
Showcasing over 4,000 of the industry's hottest products in a 1st Class Setting with state-of-the-art technology and online resources
View presentations with the assistance of Experienced Representatives
Reduce research time with one complete source
Explore product ideas for future projects
Place your sample orders on site
A true First Class Experience!
Design Center Locations:
Dallas, Texas
Atlanta, Georgia
New York, New York
Chicago, Illinois
Irvine, California
To setup an appointment to visit a Design Center in your area, please click here to open our request form.